Thoroughly enjoyed meeting Mark Yakich last evening. He read from all three of his collections and a bit from his creative nonfiction essays, which is a current writing project. He was charming, witty, devilish, tender--a completely enjoyable evening. We had an audience of over 55 (students, faculty and community).
****
Next week, Robert Bernard Hass will be reading at Fisher. We're having back to back poetry readings.
St. John Fisher College
English Department
Fr. John Cavanaugh Reading Series
presents Robert Bernard Hass
Reading from his recent poetry collection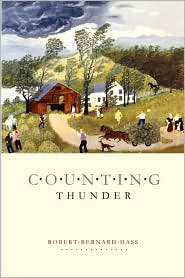 C-O-U-N-T-I-N-G
THUNDER
David Robert Books * August 2008
Thursday, October 1st, 2009 at 7:30 p.m.
Wilson Formal Lounge
Free and Open to the Public.
Robert Bernard Hass is the author of Going by Contraries: Robert Frost's Conflict with Science (University of Virginia Press, 2002), which was selected by Choice as an Outstanding Academic Title in 2004. He has won an Academy of American Poets Prize, an Associated Writing Programs Intro Journals Award, and a fellowship to Bread Loaf. He is currently Associate Professor of English at Edinboro University of Pennsylvania, where he teaches courses in American literature, classical literature, and Shakespeare.